Student Cluster Competition Success Story: Meiru Hao
Meiru Hao Shines Like a 'Supernova' During the SC18 Student Cluster Competition
As a member of Team Supernova, Meiru Hao, a fourth-year student from Nanyang Technological University (NTU) in Singapore, helped her team shine—even when they were faced with failing servers during the SC18 Student Cluster Competition. Despite the drama, the team came in second place, a move that Meiru credits to their overall preparation. SC18 marked her school's ninth cluster competition (other NTU teams won the Overall Championship and LINPACK awards at SC17). Meiru's team also received a silver medal at ISC18 in Frankfurt, Germany.
Creating Team Supernova
Student Cluster Teams are composed of six students, at least one advisor and vendor partners. Advisors offer guidance and recommendations, vendors provide hardware and software resources and students bring their skill and enthusiasm. Teams like Supernova are selected via a reviewed proposal process. While 14 students were part of the overall Supernova team, Meiru was one of the six chosen to actually attend the event in person.
我们提前半年选拔参赛队员, she explained.
("Students are chosen at least six months before the competition," she explained.)
选拔考察了我们对于HPC的知识储备和对linux系统的熟练操作。
("We are selected by our knowledge in HPC and if we know the basis of Linux systems.")
在此基础上选出最适合参加这次比赛的同学。
("Based on that, our team chooses the candidates they feel are best suited to go to the competition.")
指导教授帮我们联系学校和赞助商。
("Our professors help us with the logistics side of things and help us maintain relationship with vendors.")
选出的六个人包括有经验的学长学姐,分别负责指导新同学系统和应用。
("When we choose the six students, we make sure that we have experienced members, some focused on system and the other on software. They also take charge in mentoring the team.")
队里也有新同学,这样我们才能把HPC比赛一届一届传递下去。
("We then add new members to make sure that we can pass the knowledge on from year to year.")
Hardware, Travel, & Registration Support
For the event, NTU bought the Supernova team four Supermicro servers, and Dell donated four servers. For Meiru, this meant they could maintain servers all year round and…
…熟悉系统并且在比赛之前准备应用。
("…know their systems and prepare a lot before the competition.")
At the competition, NVIDIA provided every team with eight GPU cards, while Meiru's team also borrowed cards from NVIDIA AI Tech Center. The Supernova team also has a solid relationship with the National Supercomputing Centre Singapore.
Traveling from Singapore to SC18 in Dallas, the Supernova team was thankful for the financial help they received from the conference. Typically, travel costs to compete at the cluster competition are not provided. For SC18, selected teams also received full conference registration and accommodations for each team member and one advisor.
Meiru & Team Power Through a Challenge
As noted, Meiru and Team Supernova had to power through quite a challenge after their servers stopped working.
比赛开场5小时左右,第一次断电后发现有一台服务器不能工作了,(我们总共有两台服务器. 比赛规定用3000w电,我们现在只能用1500w. 失去了一半的算力也只能用一半的功耗。
("Five hours after the competition started one server went down after the first power cut, so instead of having 3 kilowatts, we only had 1.5 kilowatts"), Meiru said.
我们怀疑是内存有问题,这次用的内存和服务器不是一个牌子,可能不兼容吧. 之前从来没遇到过这个问题。
("We suspected that the memory configuration was wrong. We used memory of a different brand than the brand of our server, and they must have had incompatibilities. This had never happened to us before.")
Although only half of their machines were working by the competition's end, Team Supernova placed second.
Value in Participating & Relationship Building
More than their competitive success, Meiru recognized the value of the event for interacting with other teams to build relationships with universities and meet people from the industry.
对我来说比赛最大的收获就是认识到HPC职业道路上的很多可能性,也有了一个切实可行的目标。
("My biggest takeaway from this competition is that I found plenty of possibilities in HPC career path, which helps me to set a realistic goal.")
我们队和清华关系很好,他们是这一次的冠军。清华有一名队员上个月来新加坡,我们还带他去了新加坡超算中心。
("Our team connected well with the team from Tsinghua University based in China," she said. "They won the competition. One of their team members came to visit us in Singapore last month, and we took him to the National Supercomputing Centre Singapore.")
Meiru also ran into the same judge she met at the SC17 competition, Kathleen Shoga, from Lawrence Livermore National Laboratory.
我们去年就认识了,今年很高兴又见面,我们聊了聊在美国的实习机会。
("She recognized me from the past year, and we spoke of internship opportunities in the USA.")
Meiru Mentors Team Supernova for SC19
Because Meiru is expected to graduate in December right after SC19, she may not be able to attend the conference or the cluster competition this year. Still, she will remain on as a mentor to the team, just as previous seniors have mentored her. Unlike its namesake, Team Supernova is poised to maintain a promising and bright future and will remain a group to watch for at SC19.
Opportunities Await for Students at SC
Inspired by Meiru's story? Learn how you can apply to participate in the Student Cluster Competition and the many other opportunities available to students through the Students@SC program.
–––
Christine Baissac-Hayden, SC19 Students@SC Communications Liaison (Easy English 4 All)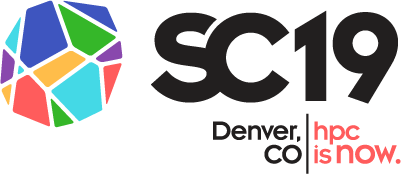 Christine Baissac-Hayden created Easy English 4 All, which provides multilingual communication tools for clients from diverse backgrounds in the renewable energy, medical, defense, marine science, and film industries. Easy English 4 All provides English as a Second Language (ESL), French, Spanish and Japanese tutoring from certified native-speaking teachers and organizes international student exchanges with personalized objectives and goals.