New SC Theater to Showcase Live Presentations That Advance Modern Data-Driven Scientific Applications
How well do high-performance networking and the theater work together? We're not talking broadway here, but the new SC Theater will debut during the Grand Opening Gala Reception, Monday, November 18, 7–9 pm. The SC Theater, with seating for 20 and standing room as well, is located next to SCinet on the exhibit floor. It will showcase presentations by students and technologists from the HPC community who are focused on data-driven scientific applications.
A full listing of events happening in the SC Theater is available in the SC Schedule (select SC Theater from the Topics pull-down) and via the SC19 Mobile App.
"I've volunteered with the SCinet team for five years, but never before have we had a spacious presentation venue with large screens to showcase student contributions to supercomputing. The SC Theatre affords us that opportunity this year. We've scheduled more than 20 presentations on topics ranging from the Student Cluster Competition to SCinet's newest architecture. It's a compelling new reason to visit the SCinet area at SC19." – Kevin Quire, SCinet Technical Director
A Compelling New Challenge at SC
Among the highlights of the SC Theater will be the SC Technology Challenge presentations and recognition ceremony. Three competing entries will show how ​networking and high-performance computing resources are essential elements of the cyberinfrastructure required to advance modern data-driven scientific applications. A distinguished jury of academic and industry thought leaders will judge the entries on Tuesday, November 19, and the teams will be honored at a recognition ceremony on Thursday, November 21.
Technology Challenge Schedule
(All events take place in the SC Theater.)
Technology Challenge Overview and Jury Introduction

Tuesday, November 19, 10:30 am

5G Citizens Broadband Radio Service (CBRS) Proof-of-Concept for Scientific Applications

University of Utah Center for High Performance Computing, Murray School District and the Utah Education and Telehealth Network
Tuesday, November 19, 11:15 am

Dynamic Network-Centric Multi-Cloud Platform (DyNamo) for Real-Time Weather Forecasting Workflows

RENCI/UNC Chapel Hill, USC/ISI, UMass Amherst and Rutgers University
Tuesday, November 19, 11:45 am

Real-Time Analysis of Streaming Synchrotron Data

Argonne National Laboratory, Northwestern University, Starlight, Northern Illinois University, University of Chicago
Tuesday, November 19, 1:15 pm

Technology Challenge Recognition Ceremony

Thursday, November 21, 10:30 am
The SC Theater provides a look into the network side of the SC Conference. We invite attendees to discover what is happening behind the scenes of SCinet, appreciate network experiments, and view the Student Cluster Competition. — Marc Lyonnais, SCinet Vice Chair
For more information about the SC Theater, please contact Rebecca Hutchinson or Kevin Quire.
——
Sara Aly & Rich Finlinson, SC19 Communications, SCinet Liaisons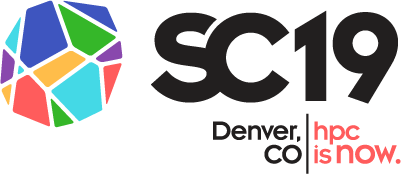 Sara Aly is a Communications Manager at Internet2.
Rich Finlinson is an associate director of Utah Education and Telehealth Network and author of "How to Capture Ideas and Create Compelling Content: An A-to-Z Approach".