Stephen Herbein Keeps His SC Conference Connection Thriving
Stephen Gets Acquainted with SC as a First-Time Student Volunteer
In 2012, Stephen Herbein joined Michela Taufer's lab at the University of Delaware and one of the first things she had him do was apply to be a student volunteer for the SC12 conference. He was selected upon his first application. For Stephen, this was a first all around: he had never attended a technical conference before, let alone volunteered at one.
Stephen on LinkedIn
herbein.net
"I was blown away by the extent of the space, the vendors, and the technology that was on display," he recalled. "At the opening gala, I spent the entire time moving around goggling at all the crazy emerging technology on display. 3M presented a server board immersed in liquid Fluorinert, used as a cooling system. I remember watching all the bubbles coming off the processor".
At the time, Stephen was a novice in the field of high-performance computing. As an SC student volunteer, he was asked to welcome people to tutorials, which enabled him to sit in on two of them.
"People normally pay hundreds of dollars to go see these (Tutorials), and I got to attend for free while counting the attendees, scanning badges, and taking care of technical issues, such as audio visual and temperature settings," he said.
One of the tutorials he monitored was an introduction to parallel input/output (I/O). Stephen said he would have never chosen that tutorial (SC now allows students to choose their assignments, when available), although it ended up being very useful to him. The following summer as part of an internship at Oak Ridge National Laboratory he ended up using a parallel I/O library, called ADIOS [Adaptable IO System].
"So, that tutorial ended up being very useful for my work," he noted. "And, I had never even heard of parallel I/O prior to the conference."
During his first SC conference, Stephen also worked at his school's booth, another first for him. He helped set up and manage the University of Delaware booth, which required additional preparation he had not expected.
"I had to read and learn about the posters that represented student work." He said. "This broadened my knowledge about my school and improved my communication skills. We also had to pack, inventory, and ship the booth's content via Freeman. Though this may seem like a minor task to some, it opened my eyes to how much work is involved in creating and running a booth."
Since that initial year of volunteering at the SC conferences, Stephen has discovered research topics and technologies that he would not have been exposed to otherwise. This absolutely helped him forge his interests and career path. He was an undergraduate computer science major at his first conference and went on to complete his doctorate in scheduling and resource management.
"SC is so big that throughout my studies, I always found the information and support I needed there," he noted.
Parlaying New Skills as a Student Volunteer Lead
In 2016, SC offered student lead positions for the first time, and Christine Harvey asked Stephen to pursue a position.
"She had grown to know me during the past conferences and believed I was a good fit for the new role," he said.
The objective for student leads is to smooth out transitional periods during the conference, so students can have a person of reference to answer their questions. Prior to student lead positions, everyone would go to one single person. Often, it created a bottleneck and, at times, made the process chaotic. SC's student leads now help even out the flow. Last year, there were 15 student lead volunteers. This year, the conference will be seeking 20. Being a student lead requires previous service as an SC student volunteer, making it easier for leads to know the program and the people who run it.
"The cool thing about being a lead is that SC gives you more responsibilities as you manage a group of student volunteers," Stephen explained.
"The first year I took care of the info booth. The booth had a laptop with Slack (a collaboration hub app) on it so that when students had questions, they could communicate with me easily. I was their point of contact. When I didn't know the answer, I would find it with the help of available committee members. At the beginning of each new shift, I would meet the student and committee member scheduled at the booth, and I would help smooth the transition process, as well as present the required information for the info booth. I learned a lot about the conference through the questions that were asked."
Stephen also met many people when he took care of the info booth: "It was the perfect networking station, and, as a lead, my name was included as being part of the committee on the SC18 website in the student volunteer lead section."
Today, as Stephen is no longer a student, he instead included his experience on his resume. This made him eligible to become part of the committee this year, continuing his long SC volunteering connection.
As a student volunteer lead, Stephen found relationships were tighter and easier among the members of the SC "family."
"I spent a lot of time with the other University of Delaware students," he recalled. "At several SCs, I roomed with Robert Searles, a fellow student volunteer. Later, during graduate school, I ended up being his roommate as well. We had taken classes together, but rooming together at SC really connected us, and we are best friends now. Robert is back in Delaware, and I am in California. So, SC is the place that we can see each other now, and we make of point of meeting up during the conference to catch up."
Experience Leads to Position on SC19 Committee
Now as a committee member, Stephen is excited to help manage the mobile application that will keep attendees informed about the hundreds of scheduled events. One of the main focuses is on the new General Data Protection Regulation, a European-Union-based law that protects data and privacy for all individuals within the EU. SC and its vendors are being careful to comply with these new regulations, and the SC19 committee has made the intentional choice to store as little personal information as possible. As such, Stephen is aware of the potential of this new mobile application, as well as the need to maintain it as a true "benefit for our privacy-focused attendees."
"I am in charge of picking the vendor that will integrate with our conference management system, Linklings," Stephen explained. "I will also make sure the application will include an accessibility map, and we are picking fonts and a color palette that ensures the color blind and dyslexic can read it. I am not a communication person, so every communication meeting feels a bit over my head, but that also means I am learning so much."
And, according to Stephen, learning new things and meeting new people keeps him connected to the SC conferences and coming back for more year after year.
"As I look back and remember how much the conference blew me away as a student, I now feel as though I can return that experience to others with my participation on the committee," he said.
Opportunities Await for Students at SC
Inspired by Stephen's story? Learn more about the many opportunities that are available to students through the Students@SC program.
–––
Christine Baissac-Hayden, SC19 Students@SC Communications Liaison (Easy English 4 All)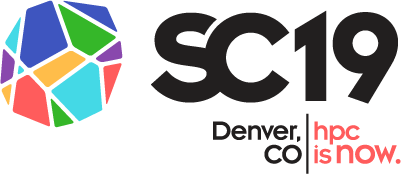 Christine Baissac-Hayden created Easy English 4 All, which provides multilingual communication tools for clients from diverse backgrounds in the renewable energy, medical, defense, marine science, and film industries. Easy English 4 All provides English as a Second Language (ESL), French, Spanish and Japanese tutoring from certified native-speaking teachers and organizes international student exchanges with personalized objectives and goals.