Prepping SCinet for SC19: Behind the Scenes with the SCinet Family
To prepare for SC19, this year's SCinet Chair, Jim Stewart, Chief Technology Officer of the Utah Education and Telehealth Network, has been leading his team of 300 volunteers for over a year. That full year of hard work came together on October 21 when SCinet started its deployment to build the SC19 network in Denver. SCinet comprises 17 teams that represent most of the information technology industry.
To start, 60 SCinet volunteers—all from diverse horizons around the world—gathered at the Colorado Convention Center in downtown Denver, where they initially spend October 21–31 "staging" the network used by the thousands of SC19 attendees and exhibitors. During this time, crates are delivered and a record-breaking $80 million worth of equipment contributions are unloaded. Racks are built, fiber is connected, and switches are configured. The SCinet volunteers bring everything together in a fun, yet nerve-racking, kind of a way.
This ephemeral network is predicted to deliver a new record of 4.2 TB, and is being built by an elite team of experts who have spent over a year designing it. They are experimenting with new technologies and equipment that has never been implemented before, which adds a bit of drama to the endeavor. During this allocated period, the objective is to troubleshoot and make adjustments before "set-up," where 200 or more volunteers will finalize the network's implementation, starting on November 10 for expected full operation on November 16 just before SC19's opening day.
The Great Network Build-Out
At staging, members from SCinet's Contributor Relations, Culture and Marketing, DevOps, Edge Network, Fiber, Interconnect, Power, Network Security, Routing, WAN Transport, WINS (Women in IT Networking at SC), and Physical Security teams, as well as eight representatives from Stewart's management team, are present. For the most part, the teams gather their equipment, inventory it, and start arranging things for the rush of set-up week.
Soledad Antelada Toledano, Cybersecurity Engineer for the National Energy Research Scientific Computing Center (NERSC) and a SCinet volunteer for the last three years, is a co-lead on the Network Security team with Patrick Storm, a network engineer at the Texas Advanced Computing Center (TACC) and a six-year SCinet veteran. She explained that the Network Security Team "is responsible for identifying and stopping the maliciousness on the network."
"We are tapping over 1 TB of traffic this year and are working with two new partners, Corelight and Big Switch, and a few returning ones, Palo Alto, Splunk, Corsa, Juniper and RedSeal, this year," Toledano said. "Our team can't wait to get started and measure the results of this year's hard work."
She added that during staging the team installs all of the equipment and configures the cloud- and software-based resources.
Connections Beyond a Network
Often, volunteers say they like to join the SCinet family because they are able to work with like-minded peers that they can share with and learn from. New volunteers are welcomed by veteran "SCineters," and a special network commences.
George Robb, a computer systems engineer with ESnet at Lawrence Berkeley National Laboratory, co-leads the Interconnect Team, which works with the convention center and SCinet teams to document and ensure correct assignment and operation of all network resources. The team also manages a detailed database for coordinating all connections to the booths, network operations center, distributed network operations centers, and the wide area network. This is the third time that Robb has volunteered with SCinet, although it is his first time on the Interconnect Team.
"This is a great learning experience, even though it doesn't pertain to my job," Robb explained. "The relationships that are forged are permanent and very helpful during my day job."
He added that his time with SCinet has given him an opportunity to learn how to conduct interconnect operations.
"The community, former Interconnect Team, as well as other SCinet teams have been awesome to work with," Robb said. "It is a must for me to know past and present data and ensure that everything is as it should be, from a patching and network perspective. We've built from the logical and the database reality and continue to update as we go along, so from model to reality."
The fact that the SCinet team does not lack humor helps. They are a "work hard, play hard" group as Robb can attest.
"We were going to the offsite data center location with Kate Robinson [part of the WAN Transport Team also an ESnet volunteer], and we put technical equipment in her car: OTDRs, laptops, fiber cleaning gear, and fiber. In short, we had all the equipment needed to build a network—plus, a stray potato," he described. "This potato has been SCinet's ongoing joke this year. We joked that 'fiber can't be cleaned with a potato.' The potato incident has stuck, and there may be potato hunts and humor that carries forward in our community. This community is home away for home for me."
A Tight-Knit Community
An immense sharing and networking experience is how Geoff Hutchings, DevOps NOC Engineer at ESnet, feels about this first step toward his SCinet experience as a WAN Transport Team member.
"I was working on a patch panel with another volunteer," Hutchings explained. "In the past, I have done a lot of fiber cleaning at work, and I have a lot of cable management experience, so I was able to help her learn how to clean fiber, a new skill for her, while she taught me how to access and use the Calient optical switching gear. She knows all about that from previous experience."
Hutchings likes to work with digital scopes from VIAVI and EXFO to test fiber as "they don't leave any room for personal interpretation; they actually tell you if the fiber passes or fails." He has been working on rack six with four other volunteers and noted he has been "guided and learning with them," along with developing personal rapport.
Aside from technical and personal enrichment, Hutchings says that he got a "real feel of how tight the research community is, from universities and from campus to campus."
"It is very cool to see how tight knit this community is," he added.
As they near completion of these initial activities, the SCinet family is working like a busy hive, full of good humor and anticipation.
"I look forward to presenting the SC19 attendees the fruits of my team's hard work," Stewart said.
–––
Christine Baissac-Hayden, SC19 Students@SC Communications Liaison (Easy English 4 All)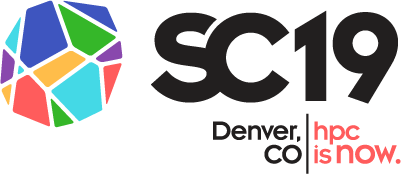 Christine Baissac-Hayden created Easy English 4 All, which provides multilingual communication tools for clients from diverse backgrounds in the renewable energy, medical, defense, marine science, and film industries. Easy English 4 All provides English as a Second Language (ESL), French, Spanish and Japanese tutoring from certified native-speaking teachers and organizes international student exchanges with personalized objectives and goals.