SCinet Student Volunteers Are Here! SC19 Set-up Has Started
Rajani Pingili, from Hyderabad, India, is a first-year PhD student majoring in Computer Science at Western Michigan University. Her mentor, Dr. Ajay Gupta, introduced her to the conference, and she was selected as a SCinet student volunteer for the first time this year. Pingili joined a group of 19 SCinet student volunteers that arrived in Denver over the weekend. Monday November 11th at 8 am they all reached the convention center with more than 150 professional volunteers to set up SC19's ephemeral network. The group started with a brief presentation of SCinet and its expectations, rules, safety, and code of conduct. Pingili says that she was surprised by the way…
"SCinet sabhi swayamsevakon ke saath saman vyavahar kartha hai jo avishvasaneey hai.
Kevin Hayden ne hamen bataaya ki hum sabhee vibhinn sthaanon aur kshitij se aate hain lekin hum sabhee se samaan vyavhaar kiya jaega aur sabhee ko ek hee tarah ka badge diya jayega"
("SCinet treats volunteers of all levels equally, which is incredible. Kevin Hayden told us that we all come from different places and horizons but we are all to be treated equally. Everyone even received the same badges.")
As of 4 pm on November 13th more than 63 miles of fiber, 80 Juniper network switches, and 172 Cisco wireless access points on tripods were installed throughout the convention center. Pingili mostly installed fiber and Juniper switches in closets. She says that…
"…Jab mein iss conference mein aayi thi, mein network engineering technology mein nayi thi lekin mere team experts ne mujhe bahut acchi tarah sikhaya. Shurvaat mein mushkil lag raha tha, lekin meri team ki support ke waje se mein bahuth kuch jaldi seekh gayi".
"This was new for me, and the Edge team leads taught me how to install them". She continues to say that, "When I came here, I was completely new to network engineering and had to learn from scratch. At first, when I saw the closest and saw the connections, and how to connect LAN cables, I found that tricky and kind of scary. Particularly when you look at the whole picture, and understand the responsibility of the whole project. I picked up the basics quickly though, and my team taught me the more technical aspects of network engineering".
To conclude, she says…
"…main iss network engineering anubhav ko mere anusandhaan prayogashaala mein upyog karungi".
("I will carry forward this network engineering experience to my research lab.")
–––
Christine Baissac-Hayden, SC19 Students@SC Communications Liaison (Easy English 4 All)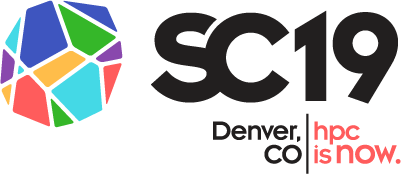 Christine Baissac-Hayden created Easy English 4 All, which provides multilingual communication tools for clients from diverse backgrounds in the renewable energy, medical, defense, marine science, and film industries. Easy English 4 All provides English as a Second Language (ESL), French, Spanish and Japanese tutoring from certified native-speaking teachers and organizes international student exchanges with personalized objectives and goals.